Specialized Commercial Services
At West Side Roofing, we specialize in the following commercial roofing services: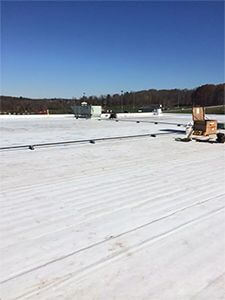 Single ply roof systems
Modified Bitumen roof systems
Hot asphalt built-up roof systems
Tear-offs and roof replacement
Roof deck repair and/or replacement
Standing seam metal roofing
Sheet metal fabrication; gutters, copings
Maintenance service and repair work
Once our initial job has been completed, you can rest assured that we will remain available to you for any maintenance issues that you need. When it comes to commercial roofing in Cleveland, Ohio, we guarantee that our service is the most complete.
| | |
| --- | --- |
| Before: | After: |
| | |
Common Commercial Roofing Issues
While the same roofing problems that you see in your home can also be seen in your office, commercial buildings also present their own unique set of problems. They include:
Faulty flashing: Flashing is installed on your roof to deflect water away from pipes and chimneys. Over time, flashing expands and cracks, allowing water to seep through. It's estimated that over 95% of commercial roofing leaks are due to faulty flashing.
Standing water: Faulty flashing, clogged or blocked drains, or a poorly designed roof can lead to the accumulation of standing water. Over time, puddles can start to deteriorate the roof and leak onto the roof deck below.
Wind uplift: Cracks and openings in flashing and other commercial roofing materials allow air infiltration. As wind blows over the roof, the pressure of the air being pushed into theses openings increases, pushing it upward and loosening fasteners or even ripping the material off altogether.
Customers are often surprised to learn that a majority of commercial roofing issues are due to roofing components that were initially poorly installed by other Cleveland roofing companies. Even issues that take 10-15 years to manifest can be due to installation issues. At West Side Roofing, we help you avoid those issues by not cutting corners and making sure your job is done right the first time.